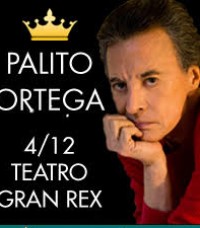 04-12-2015 | Teatro Gran Rex
His real name is Ramon Ortega, at age 16 arriving from his native province Tucuman to Buenos Aires in search of a better fate. There he worked on everything he could to send some money to his poor family that was left in his Tucumano people. Among these works also sold coffee on the streets of Buenos Aires, that's how one day he came to the door of a radio and there did not go anymore, while selling coffee met different artists every day, that was the world that always he dreamed of, because music was his true passion. The first instrument was studied drums, then guitar with which to imitations of Elvis Presley who in those years was his idol. After his first songs are born kicking off his career as a songwriter, this gives you the possibility of writing with other authors such as Dino Ramos, who achieved some successes that are recognized internationally, as TASTE ANYTHING, JUST LIKE YOU, DRESSED BRIDE, etc.
At the age of 20 years old will be the first opportunity to record on a major label (RCA), then joined the largest music television hit Argentina's famous "Club del Clan", since the program is projected to the whole country, the figure of the boy for being so skinny they call "STICK".
Then come the successes throughout Latin America and Europe, "happiness", "A boy like me," "Happy Heart", "MEDIA", "WELCOME LOVE" and many others, these successes allow you to reach the film and make 27 films Some countries like Spain, with Rocio Durcal "LOVE IN THE AIR" and in Mexico with Libertad Lamarque "SMILING MOM".
Then comes the stage of film director directing 10 films, and a very important stage as a businessman reaching its climax when Argentina hired to act in the greatest of all time, Frank Sinatra.
In 1985 he moved with his wife Evangelina Salazar and his sons in Miami, there creates its own television producer, many thought he had found his final resting place, but fate had reserved for him much more, returning to his native country 1991 to resume after an impasse in its various activities career of singer-songwriter, while their children Juliet (actress), Emanuel and Rosario (singers), Luis (Film director) and Sebastian and Martin (producers), highlighting work every man for himself.